register your choices
for treatment
Planning for the future need not be difficult, register your Advance Decision today…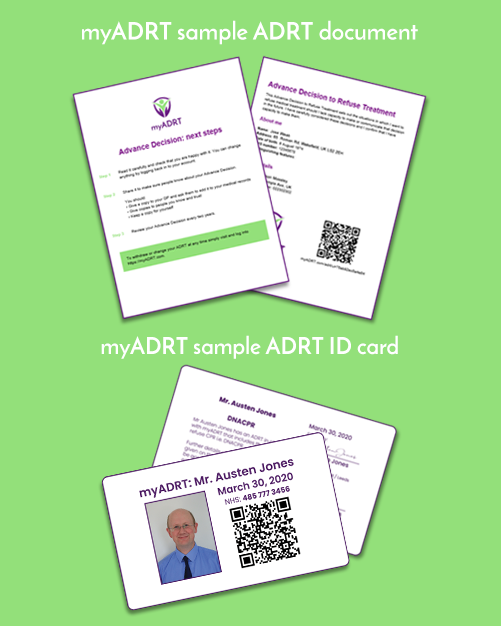 myADRT is a simple, quick and cost-free way to create and log your Advance Decision to Refuse Treatment online (you can print your ADRT form too). It only takes a few minutes, so why not see to it now?
An ADRT / "Advance Decision to Refuse Treatment" is simply a clear statement of your wishes regarding how you are to be treated and cared for should you become incapacitated and unable to express your wishes regarding your medical treatment. myADRT enables you to quickly create and register your ADRT so it can be easily found and your wishes adhered to should the situation arise.
If you decide to create and store your ADRT using the myADRT service then these are the scenarios in which you would be stating that you want to refuse life-sustaining treatment if you lose capacity in the future:
Brain injury
Diseases of the central nervous system
Terminal illness
To avoid any doubt:
You would be confirming that the refusals of treatment in your Advance Decision would apply even if your life was at risk or would be shortened as a result.
You wish to be given all medical treatment to alleviate pain or distress, or aimed at ensuring your comfort.
Please note that the wishes contained within your ADRT only stand should you become unable to communicate your wishes regarding your medical treatment yourself. Also, you should be aware that you can quickly and easily withdraw your ADRT at any time so no decision you make regarding your ADRT is irreversible.